Inov-8 Roclite 290 review: Versatile and reliable trail running shoes
Inov-8 Roclite 290 were made to be totally versatile. With British history in blood, they claim to be great on the muddy grass, rock and gravel. Sounds too good to be true for a pair of trail shoes, that seems to suit everyone's needs. Alright, it's time to figure out if this is a truly perfect all-rounder. Bear with me on this rocky review run (or scroll down to the conclusion if you are in a rush).
Technology and appearance
The first impression Roclite 290 makes is how solid and reliable they look. An upper shoe is implemented with strong synthetic mesh. There is also a mesh lining for better breathability and comfort. It doesn't feel very flexible, but still offers a good level of comfort. Shoes come in a variety of colours, and most of them seem to be sober and quite resistant to stain.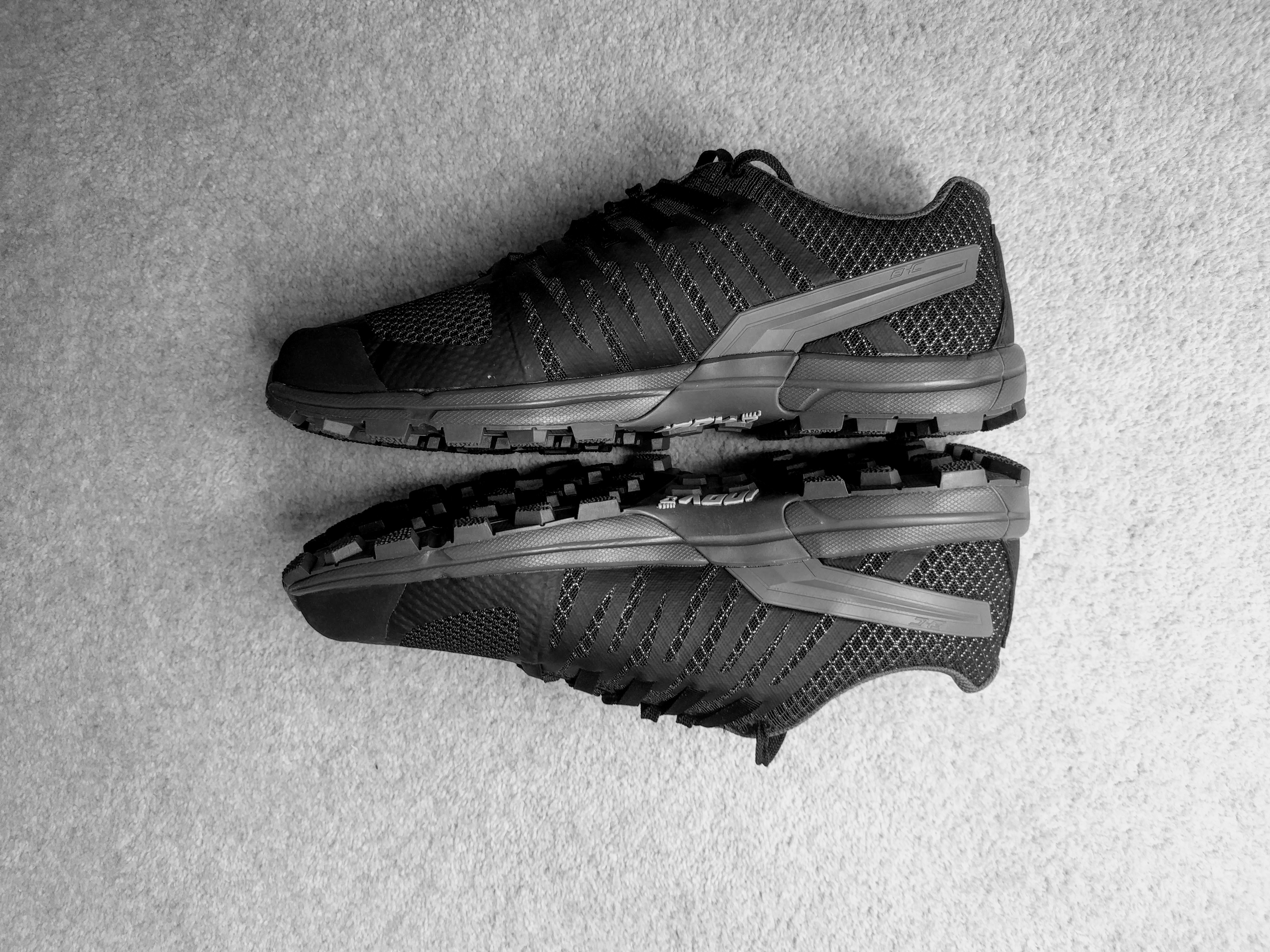 The shoe profile remains slim and narrow even with a heavy layer of protection on it
What is perhaps even more important for trail shoes, Roclite 290 offers multiple layers of protection for your feet. First off, there is a toe box cap that shields your feet from frontal kicks and sudden strikes, which is oh so common on rock paths and hard gravel trails. Second, the Metashank plate prevents sharp rocks and rough edges from harming your feet middles. It also brings additional stability and stiffness when stepping some rough edges and potholes. As well as the third layer does, which is a Y-Lock system that supports your heel to stay in place and reduces the risk of injuring it on a tough trail.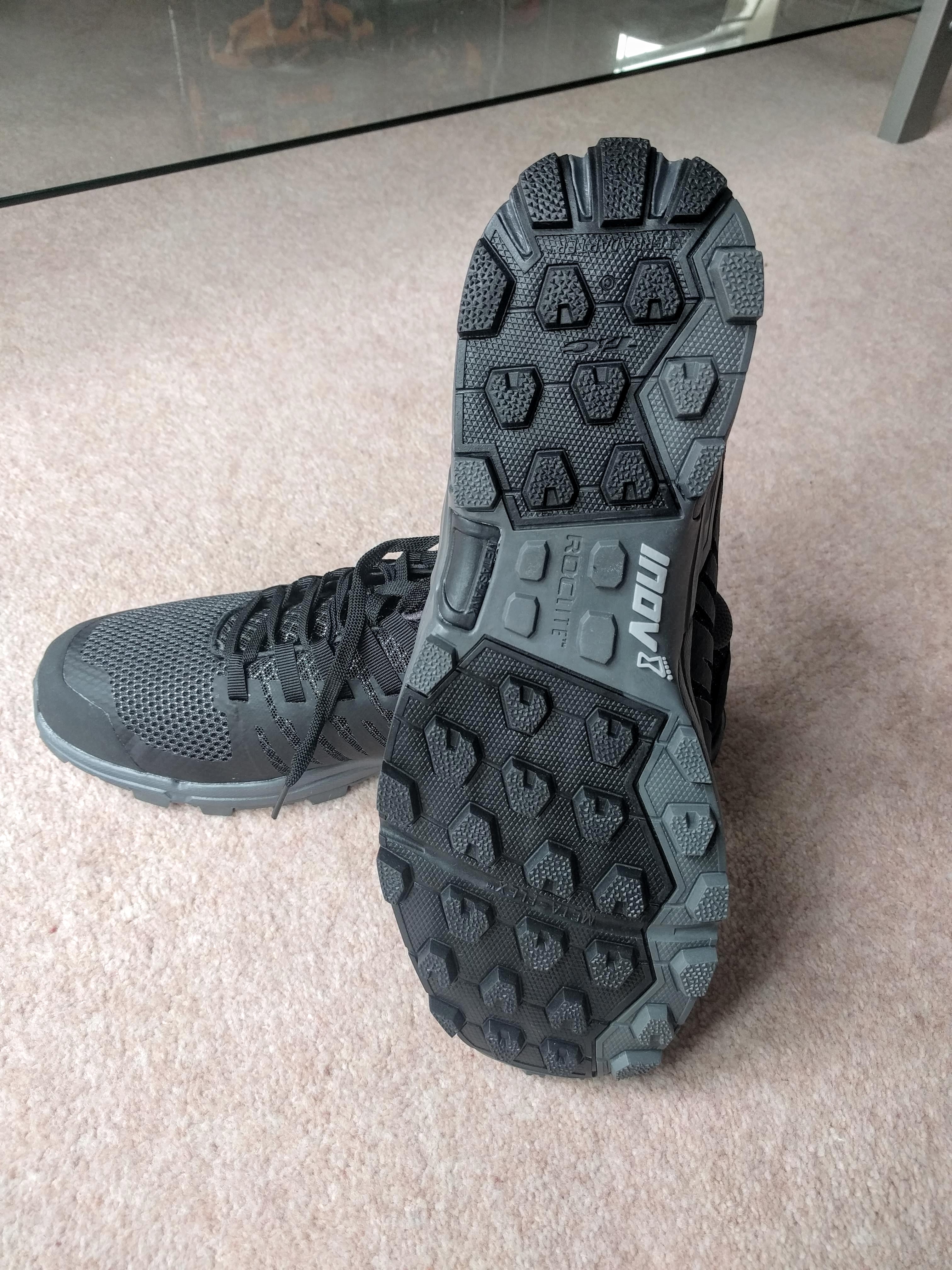 Sparse clits & Metashank plate are ready to face some rough terrain
Overall, Roclite 290 makes my feet feel really safe and shielded from sometimes offending environment. It should be also noted that there's no Gore-Tex nor any other waterproof technology to prevent your feet from getting wet, so mind this if you're looking for an ultimate winter pair (in that case, check out Roclite 315 Gore-Tex). The upside of this of course is less weight & better breathability.
On a run
With feet in, Roclite 290 feels a bit bulky and slightly long but narrow at the beginning. However, this narrowness quickly disappears after running a few kilometers. Conversely, extra space longwise provides just enough area for the toes to move a bit back & forward during the run. That bulky feeling still remains, and there's an additional reason for this. Featured to be lightweight (as you perhaps know, 290 in the model name stays for 290g), they actually weigh about 316g in size 10UK.

10UK comes 9% heavier than advertised "medium" size
By the way, here's a quick note about sizing: I normally wear 9.5UK size, but got Roclite 290 in a bit bigger one as they appeared to be a slightly better fit to me, so check sizing tables twice (or better go to your local running shoe store and try them out). But enough talking, let's go find some tough terrain!
Rocks
As expected, rocky trails seem to be the most natural environment for these shoes. Thick rubber clits provide enough traction and stability as you gradually climb up.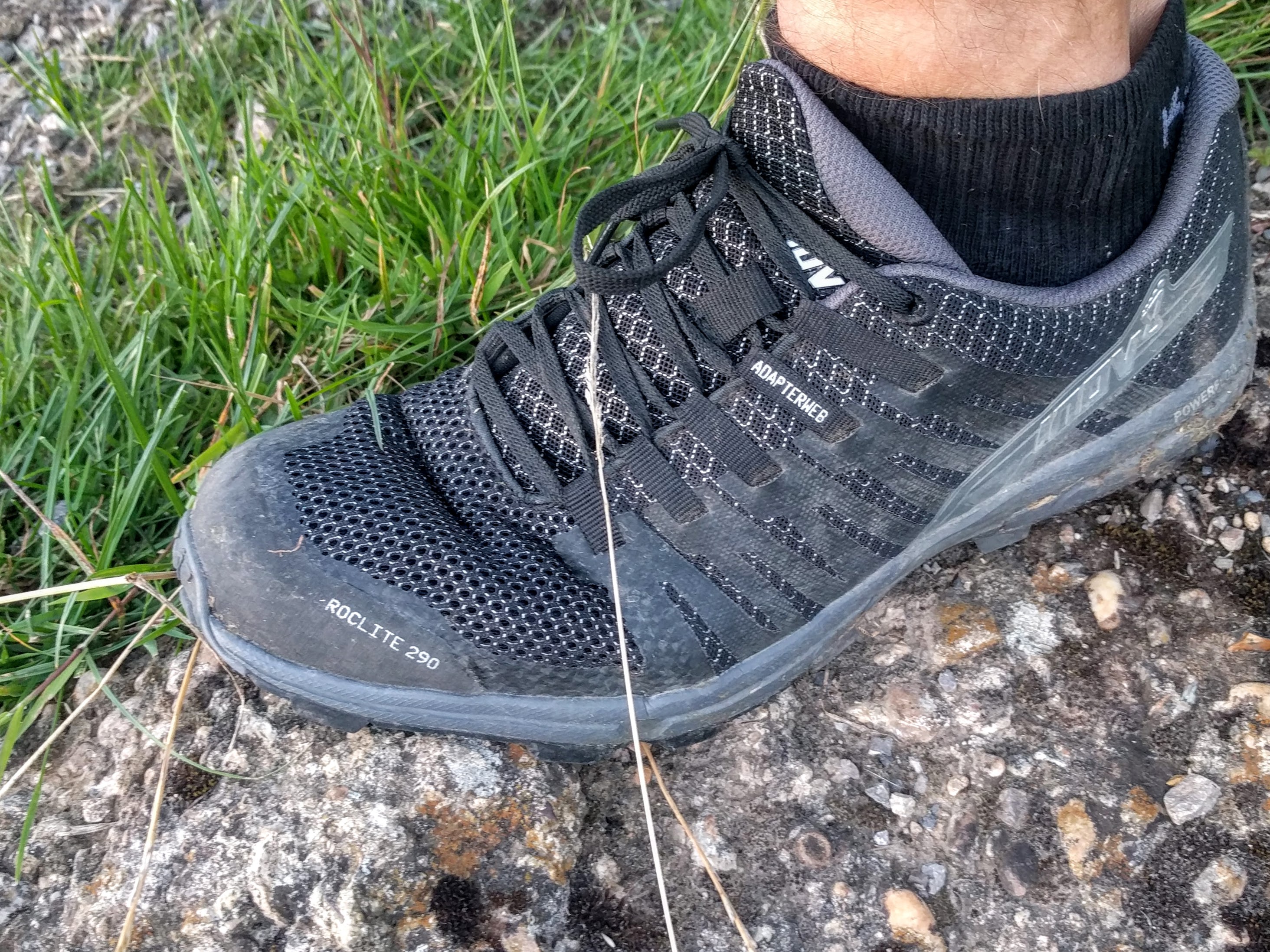 The midsole bends according to a landscape, but still remains rigid enough and responsive
Remember that bulkiness? Here it works by your side, securing your step even with extreme lateral angles. And I'm going to repeat myself, that feeling of security & feet protection is really good and really important here. What is also nice, moderate to light weight doesn't cause any uncomfortable or burdened feelings. 5/5 for this section.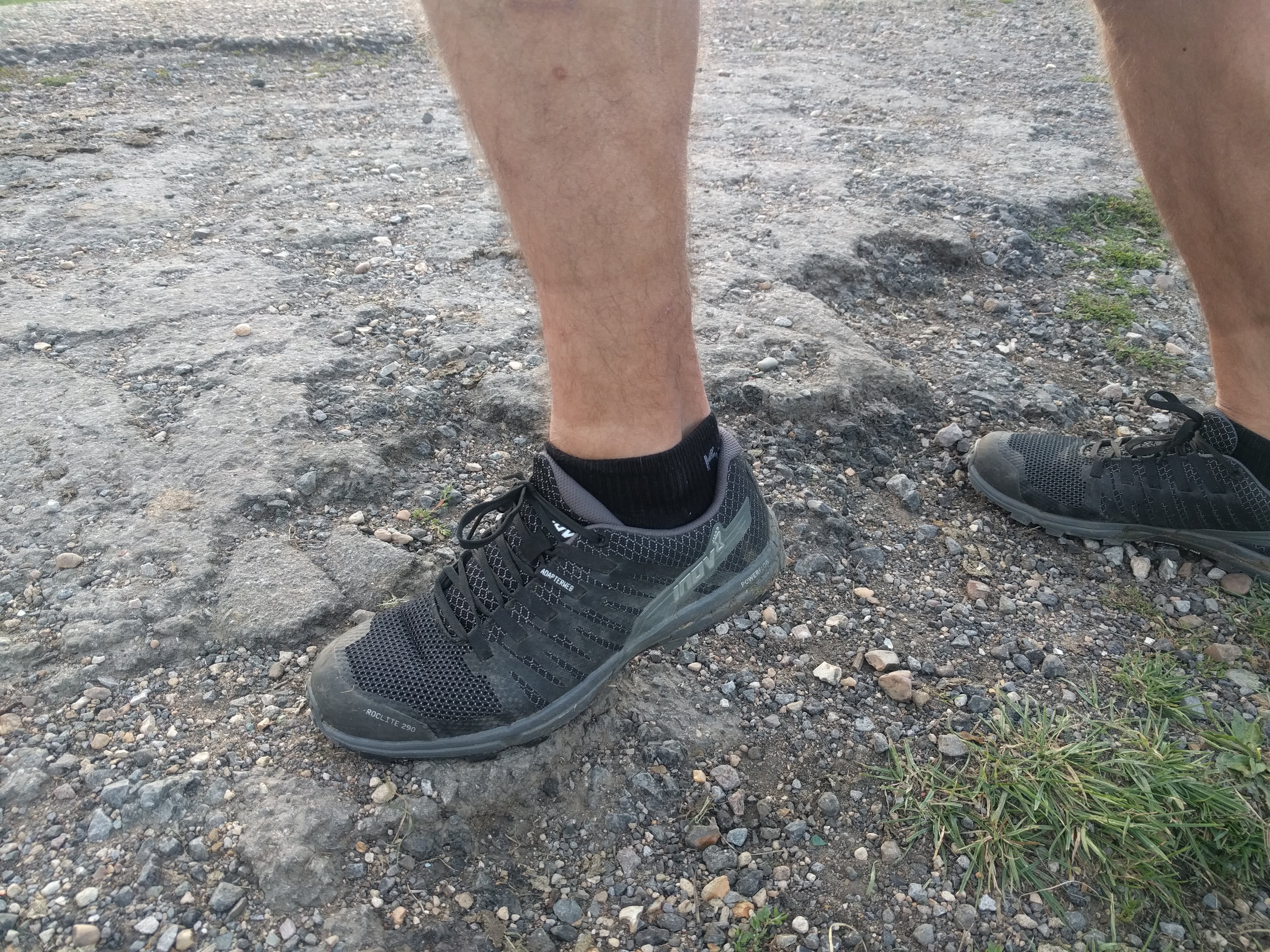 Feet & heels get enough support to keep staying upright on rocks & edges
Gravel and tarmac
The rolling stones part is nearly as smooth as the previous one. A good traction coupled with light weight gives you enough to pass any dense or sparse gravel section with a steady pace. The midsole is also responsible enough and reacts well on speed ups and sprints.

Roclite 290 remains pretty much reliable on gravel descends
However, as your speed increases (or a moving gravel layer gets thicker), the shoe grip noticeably goes down: with the base foot staying solid, the rear one often gets into a slip. Hard to say if it is caused by clits placed too sparse or them being not enough dipped into the surface, but ultimately, this forces me to question if Roclite 290 are suitable for fast-paced races. 4/5 here.
Mud and grass
Alright, so how about British classics? Jumping into the field… and feeling some slips again. Slowing down a little, getting from wet leaves to a footpath with grass kicked down, and it fortunately gets back to normal. Eventually, passing the field section wasn't that annoying or bad as it is in road running shoes, but I believe they'd do better. Yes, I have to admit that the grass and leaves on top were slightly wet because of dew drop and stepping away from the footpath isn't common for many, but honestly, I wished these shoes would have a better grip here.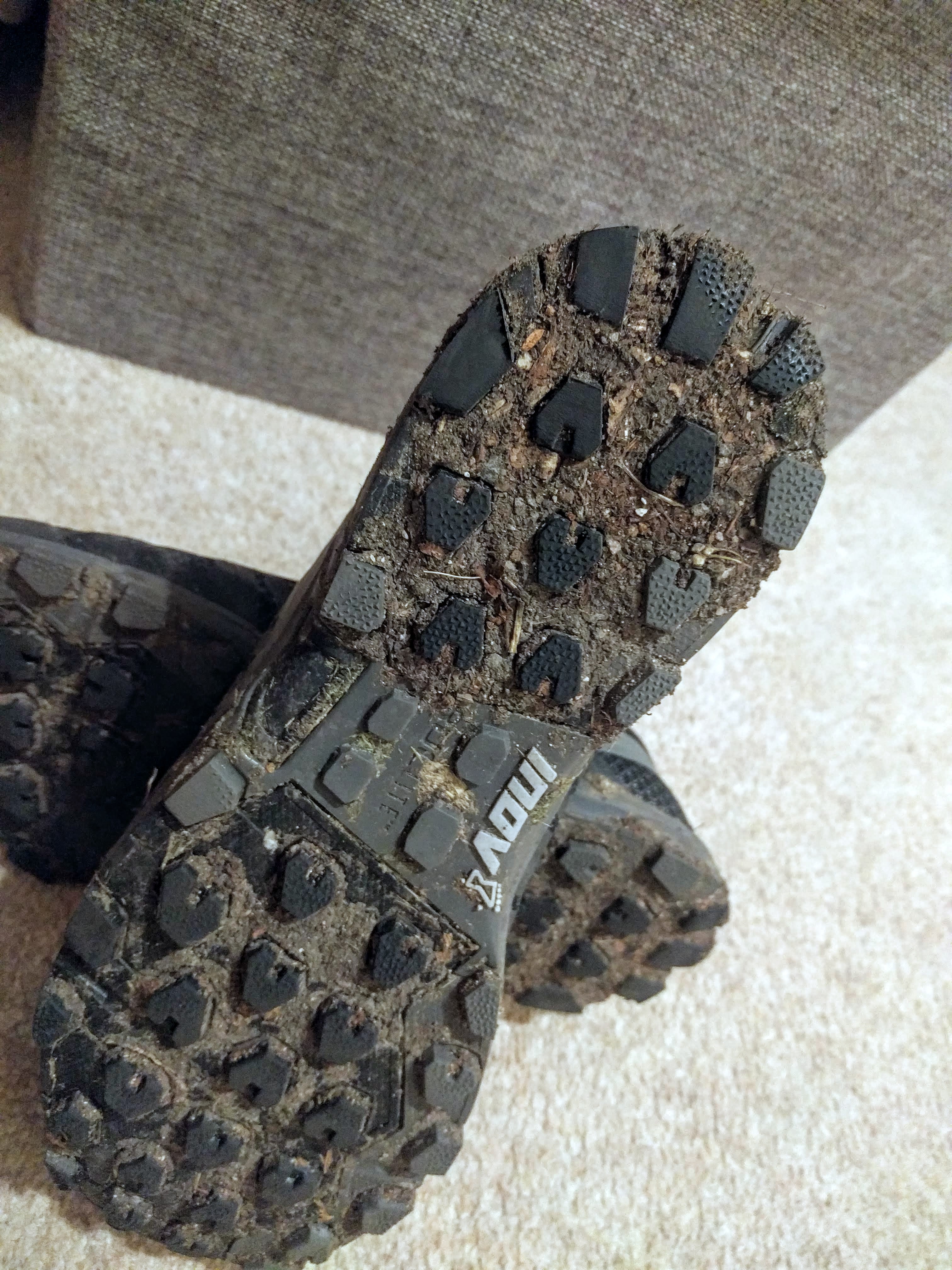 Mud gets stuck between clits quickly leaving you with little to no grip when wet
Let's hit some puddles! Feet stay dry for a while, and then the muddy water soaks in little by little. Nothing unexpected nor uncomfortable, keep going. Next muddy section and the grip level slowly goes down. Checking outsole, and as it appeared that mud & grass got stuck between sparse clits. Hitting a few slides on the corners with wet grass and returning back to a hard surface. 4/5.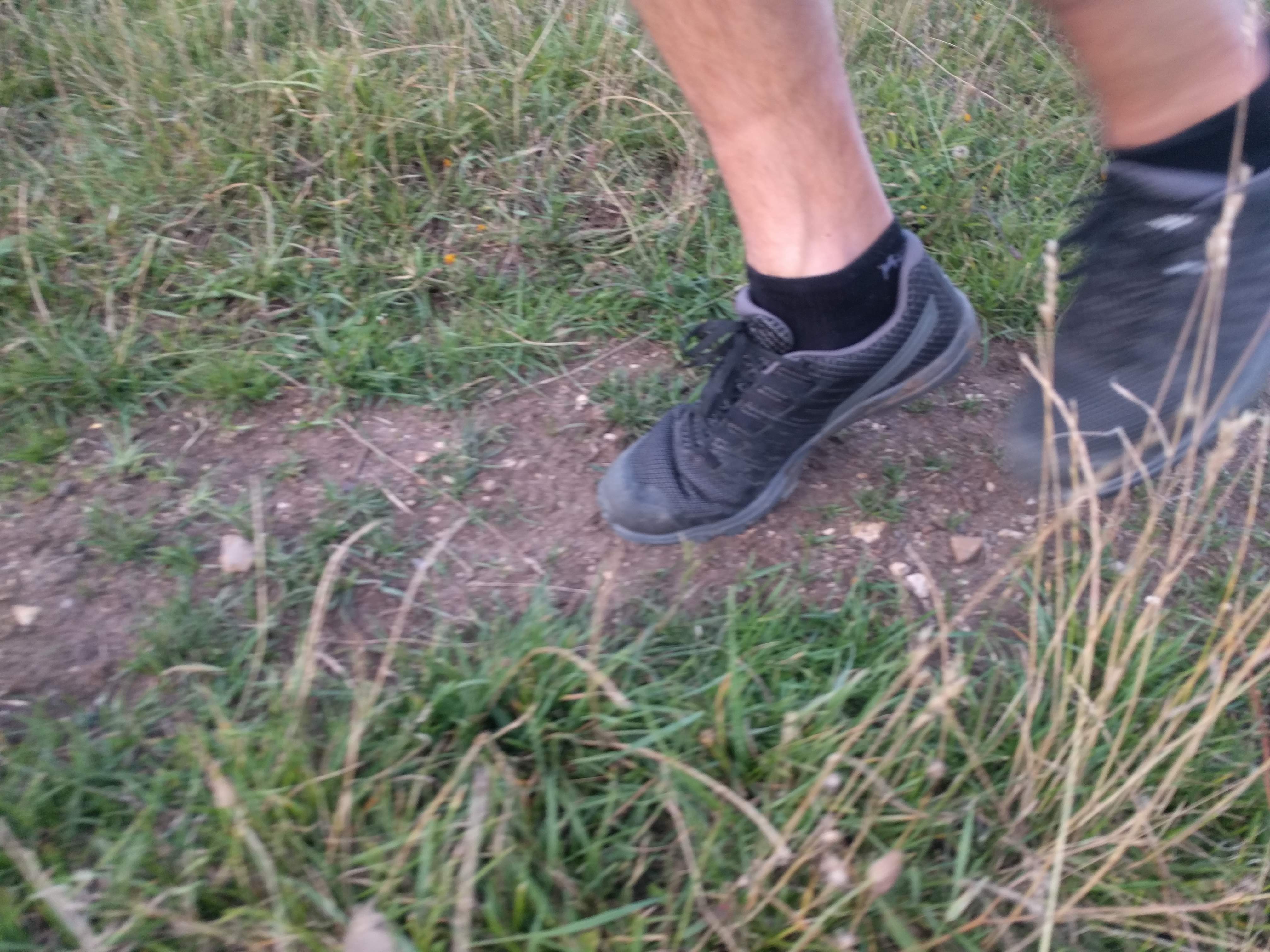 Dried ground or grass isn't an issue for Roclite, though
Asphalt
Surprisingly, asphalt roads appear to be welcoming. The grip returns back even with mud glued in between, the feeling of shoe bulkiness actually doubles, because of that mud travelling with you. It shakes off a little as we go, and the airflow dries the sunk water out, thanks to a good ventilation. After a while, feet get really warm (I guess that black shoe colour plays not the least role), but still remain comfortable. Couple of weak sprint attempts find some response from midsole, nevertheless Roclite 290 quickly reminds it wasn't designed for that purpose. 4/5.
Go or nogo
So, what would be the conclusion? Yes, it's a rock-solid attempt to make versatile shoes that would be capable of destroying any kind of surface. No, it doesn't feel like an ultimate all-rounder that would respond to you back in sprints or in some extreme muddy conditions, though it is definitely a 100% working pair of training shoes to drive you through rocky trails, rough stretched tarmac sections and the narrowest footpaths, granting enough grip in most of the situations. This perfectly suits me, as well as 4mm hill to front drop, thin but responsive midsole and quite a decent level of protection they give.
I definitely recommend Inov-8 Roclite 290 to those who:
Run 5-20km trails including rocks, gravel and other hard surfaces,
Prefer low-drop minimalist shoes,
Enjoy the feeling of your feet being safe.
However, if you are often hitting mud and clay roads, or maybe desiring some water and rain resistance, you may find this pair not so ideal. Instead, check out Inov-8 Mudclaw 275 or a Gore-Tex enhanced version of Inov-8 Roclite 315. For those who looks for a pair of pure competitive trail running shoes, I'd recommend Inov-8 X-Talon 212.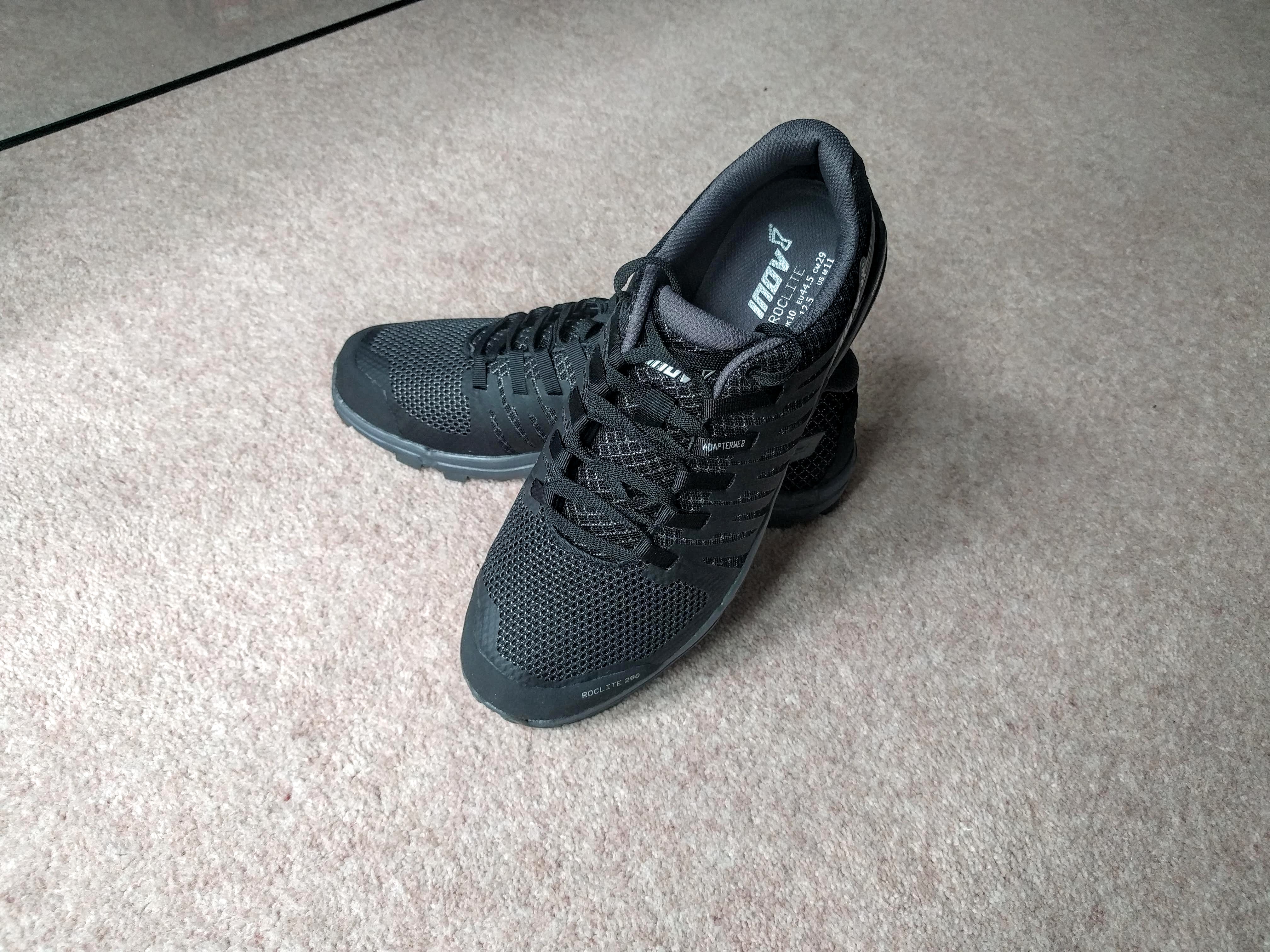 Roclite 290 leaves a strong impression of robust, reliable shoes
With this being said, my overall score for Roclite 290 would be 85/100: still very good, still versatile, though there's still room for improvement.
About runner
Weight: 67kg, height: 185cm
Avg. distance weekly: 80-100km
In these shoes:
Max. distance ran in a single workout: 20km
Max. pace: 3:50min/km, avg. pace: 4:45min/km

← Back to other articles